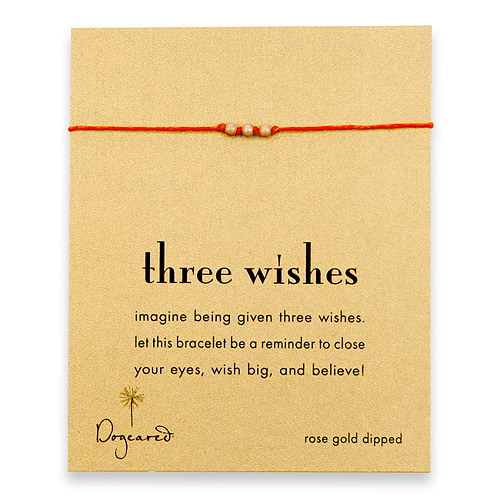 mouse over image above to zoom
three wishes stardust bead bracelet on burnt orange irish linen, rose gold dipped
gold on turquoise




$26.00

rose gold on orange




$26.00

silver on tobacco




$26.00
It's always good to have wishes on hand. Literally! Here's three of them on an Irish linen bracelet. Three tiny stardust beads big on sparkle and shine. Reminders to keep up the wishful thinking!
card message
imagine being given three wishes. let this bracelet be a reminder to close your eyes, wish big, and believe!
made in the USA
7" burnt orange irish linen
3mm rose gold dipped stardust beads
rose gold dipped bead closure
three wishes message card
Irish linen is not intended to get wet. Its true nemesis is water -- it makes it fade and age before its time -- your irish linen will remain strong, beautiful and colorful if kept dry. Treat it like the dainty treasure it is.
found in
bracelets, three wishes, bead, bead closure, gold dipped, irish linen, message card, orange, rose gold dipped, stardust bead