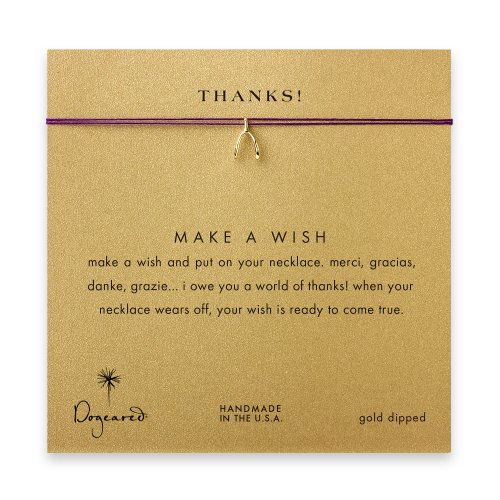 mouse over image above to zoom
thanks! Wishbone necklace on amethyst, gold dipped
gold on amethyst




$30.00

silver on amethyst




$26.00

gold dipped




$58.00

sterling silver




$48.00
When there just aren't enough words or ways to give thanks, you can still give it your best shot with this lovely teeny wishbone necklace. It's more than a jewel - it's a wish for wonderful things. With the Make A Wish Collection, it's a simple as (1.) making a wish, and (2.) putting on your necklace. When it falls off, your wish is on its way!
card message
THANKS! / make a wish and put on your necklace. merci, gracias, danke, grazie...i owe you a world of thanks! when your necklace wears off, your wish is ready to come true.
made in the USA
16'' amethyst silk thread necklace
11mm gold dipped wishbone charm
gold filled spring ring closure
thanks! message card
found in
necklaces, make a wish jewelry, make a wish on silk, 16 inch, gold dipped, spring ring closure, teeny wishbone, thanks!