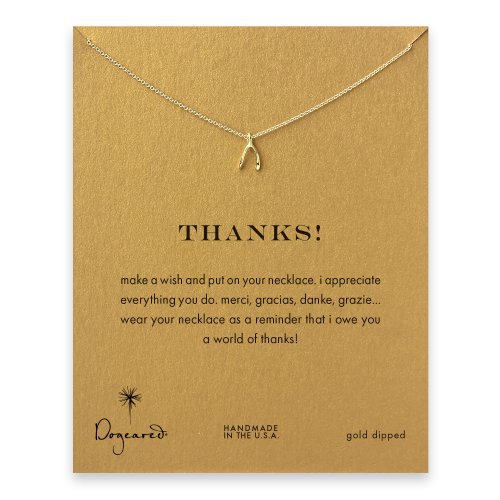 mouse over image above to zoom
thanks! Wishbone necklace, gold dipped
gold on amethyst




$30.00

silver on amethyst




$26.00

gold dipped




$58.00

sterling silver




$48.00
When there just aren't enough words or ways to give thanks, you can still give it your best shot with this lovely teeny wishbone necklace. With the Make A Wish Reminders Collection, it's not just a jewel...it's a reminder of what matters most.
card message
THANKS! / make a wish and put on your necklace. i appreciate everything you do. merci, gracias, danke, grazie...wear your necklace as a reminder that i owe you a world of thanks!
made in the USA
16'' gold filled necklace
11mm gold dipped wishbone charm
gold filled spring ring closure
thanks! message card
found in
necklaces, make a wish jewelry, make a wish on chain, 16 inch, gold dipped, spring ring closure, teeny wishbone, thanks!