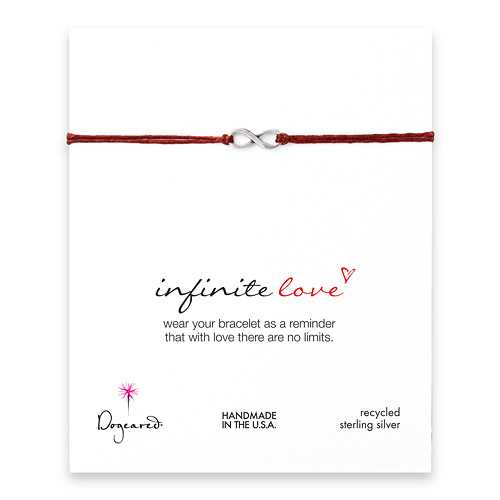 mouse over image above to zoom
small infinite love bracelet on red irish linen, sterling silver
gold dipped




$42.00

sterling silver




$36.00
Oh, infinity. You're so... endless! We love that about you. It's why we keep thinking of new ways to wear you! This infinity symbol bracelet comes on red Irish linen for a beautiful, colorful reminder that love is forever.
card message
wear your bracelet as a reminder that with love there are no limits.
made in the USA
7" red irish linen
1/2" oxidized recycled sterling silver infinity charm
sterling silver bead closure
infinite love message card
Irish linen is not intended to get wet. Its true nemesis is water -- it makes it fade and age before its time -- your irish linen will remain strong, beautiful and colorful if kept dry. Treat it like the dainty treasure it is.
found in
bracelets, love collection, 7 inch, charm, infinite love, infinity sign, irish linen, love, message card, oxidized, recycled, red, sterling silver, trigger closure, valentine's day