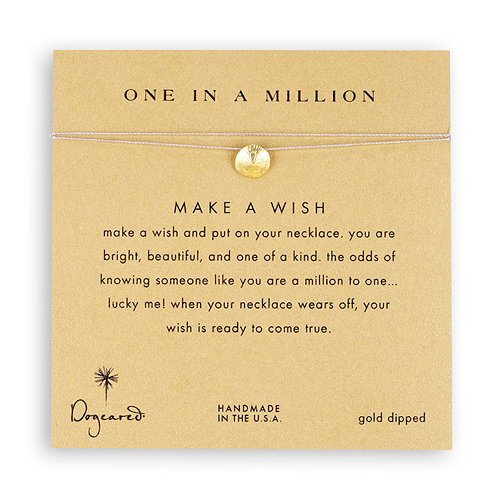 mouse over image above to zoom
one in a million sand dollar necklace on taupe, gold dipped
$30.00

#844923021144
Out of stock - coming back soon!

gold dipped




$58.00

gold on taupe




$30.00

silver on taupe




$26.00

sterling silver




$48.00
It's good to be loved. And we think when you love someone, you should tell them! What better way than with this One in a Million necklace? The handmade sand dollar charm will remind the wearer that someone thinks they're truly special, and when it wears off, her wish will come true!
card message
make a wish and put on your necklace. you are bright, beautiful, and one of a kind. theodds of knowing someone like you are a million to one... lucky me! when your necklace wears off, your wish is ready to come true.
made in the USA
16'' taupe silk thread
9mm gold dipped sand dollar charm
gold filled spring ring closure
one in a million message card
found in
necklaces, make a wish jewelry, make a wish on silk, 16 inch, charm, gold dipped, message card, one in a million, sand dollar, silk thread, spring ring closure, taupe
as seen in
Sports Illustrated Swimsuit Edition