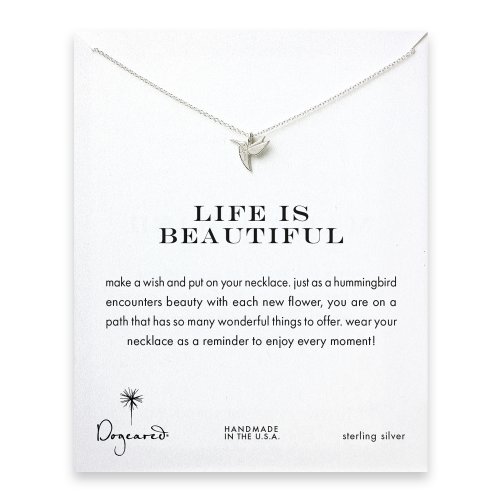 mouse over image above to zoom
life is beautiful hummingbird necklace, sterling silver
$48.00

#844923062666
Out of stock - coming back soon!

gold on coral




$30.00

gold on coral




$26.00

gold dipped




$58.00

sterling silver




$48.00
It's all about the journey - celebrate the beauty of it with this sweet hummingbird necklace! With the Make A Wish Reminders Collection, it's not just a jewel...it's a reminder of what matters most.
card message
LIFE IS BEAUTIFUL / make a wish and put on your necklace. just as a hummingbird encounters beauty with each new flower, you are on a path that has so many wonderful things to offer! wear your necklace as a reminder to enjoy every moment!
made in the USA
16'' sterling silver necklace
.45" sterling silver sweet hummingbird charm
sterling silver spring ring closure
life is beautiful message card
found in
necklaces, make a wish jewelry, make a wish on chain, 16 inch, life is beautiful, mother's day, spring ring closure, sterling silver, sweet hummingbird