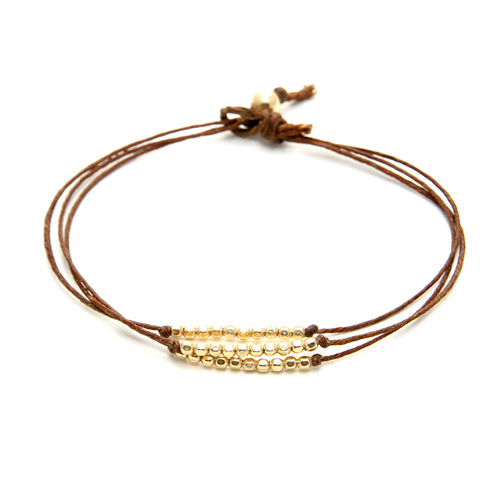 mouse over image above to zoom
sparkle bracelet on tobacco irish linen, gold dipped
gold on red




$40.00

gold on tobacco




$40.00

sterling silver on tobacco




$36.00
Twinkling stars. 24/7. Is that too much to ask? Of the sky, maybe, but not of your wrist. Our sparkle bracelets add just the perfect amount of sparkle to your days. They are comfortable enough to wear everyday, and look amazing layered. The magazine editors love to use these....
made in the USA
7" tobacco irish linen
gold filled beads
gold filled bead closure
sparkle bracelet tag
packaged in dogeared logo pouch
Irish linen is not intended to get wet. Its true nemesis is water -- it makes it fade and age before its time -- your irish linen will remain strong, beautiful and colorful if kept dry. Treat it like the dainty treasure it is.
found in
bracelets, sparkle, 7 inch, bead, bead closure, dark brown, free spirit jewels, gold dipped, gold filled, gold filled bead closure, irish linen, pouch, tobacco, triple strand
as seen in
Glamour Magazine, Self Magazine, US Weekly Magazine