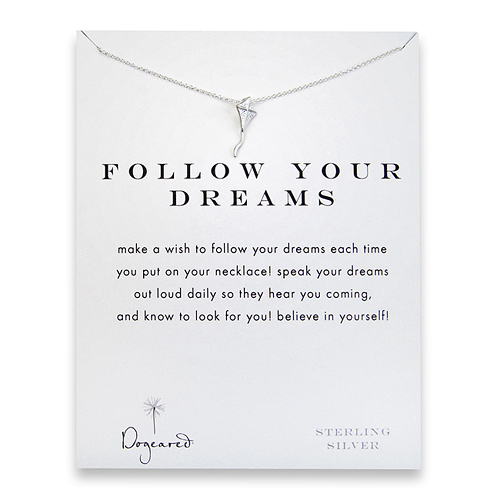 mouse over image above to zoom
follow your dreams kite necklace, sterling silver
$48.00

#879485006940
Out of stock - coming back soon!

gold dipped




$58.00

sterling silver




$48.00
Follow your dreams and believe in yourself! Handcrafted with love, our kite charm brings the spirit of adventure to whoever wears it. And with a gift this easy, you'll be eager to share the love!
card message
make a wish to follow your dreams each time you put on your necklace! speak your dreams out loud daily so they hear you coming, and know to look for you! believe in yourself!
made in the USA
16" sterling silver chain
2/3" sterling silver kite charm
sterling silver spring ring closure
follow your dreams message card
found in
necklaces, make a wish jewelry, make a wish on chain, 16 inch, follow your dreams, graduation, kite, silver chain, spring ring closure, sterling silver