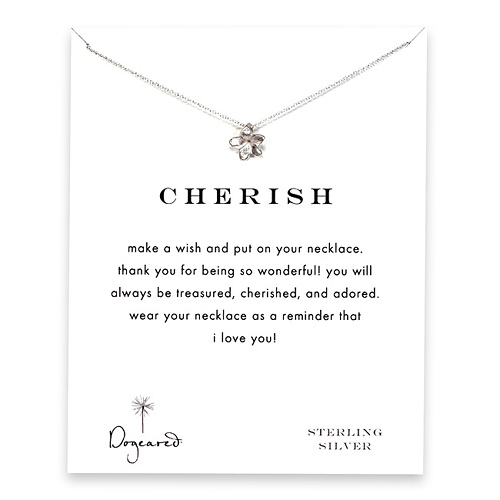 mouse over image above to zoom
cherish plumeria necklace, sterling silver
$48.00

#879485004533
Out of stock - coming back soon!

gold dipped




$58.00

sterling silver




$48.00
Cherish every moment. That's what it's all about. Give Dogeared's Cherish Reminder necklace to those closest to you, and create just the kind of moment you cherish most.
card message
make a wish and put on your necklace. thank you for being so wonderful! you will always be treasured, cherished and adored. wear your necklace as a reminder that i love you!
made in the USA
16" sterling silver chain
sterling silver plumeria charm
sterling silver spring ring closure
cherish message card
as seen in brides chicago magazine
found in
necklaces, make a wish jewelry, make a wish on chain, 16 inch, charm, cherish, message card, mother's day, plumeria, silver chain, spring ring closure, sterling silver
as seen in
Brides Magazine