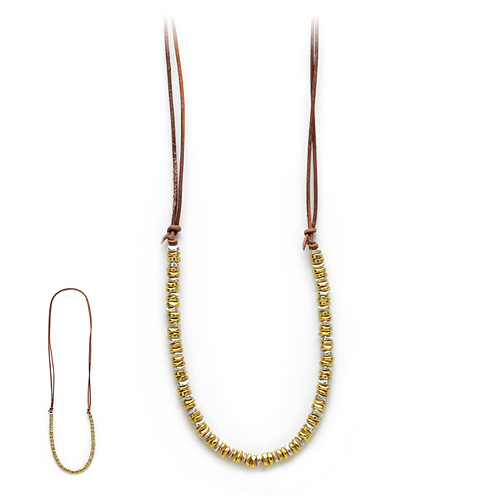 mouse over image above to zoom
100 good wishes teak leather necklace, mixed metal beads
mixed metal on teak




$46.00

silver on black




$46.00
Adjustable leather cord lets you wear this necklace long or short, and 100 pebble beads give it an earthy, bohemian vibe. 1 very cool necklace + 100 Wishes = 100 reasons to love it!
card message
balance compassion trust luck peace kindness love strength wish clarity real miracle wisdom satisfaction imagination faith fortune vision calm beauty spirit hope integrity bliss enjoy be power live optimism relax grace forever thanks believe patience courage laugh gratitude refresh savor simplify character harmony tranquility pause restore treasure reflect aspire leap dare listen learn dream awaken build embrace support smile experience delight revel indulge celebrate seek originality longevity glee success brilliance comfort greatness unity triumph abundance health loyalty serenity knowledge joy charm warmth humor enchantment happiness contentment friendship healing freedom create begin sing forgiveness cherish protection confidence play good positivity growth
made in the USA
20-32" adjustable leather cord necklace
1mm teak leather cord
4.6mm mixed metal brass pebble beads
100 good wishes tag
packaged in dogeared logo pouch
Leather is not intended to get wet. Its true nemesis is water--- it makes it discolor and age before its time--- your leather will remain strong beautiful and colorful if kept clean and dry. Treat it like the dainty treasure it is.
found in
necklaces, 100 good wishes, 20 inch, brass beads, free spirit jewels, Global Express, gold dipped, layered necklaces, leather, leather cord, pull closure, teak (color), top 100
as seen in
Sports Illustrated Swimsuit Edition